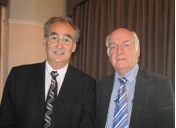 20 September 2011 Bracknell, United Kingdom [tedNEWS] "If your DNA was stretched out into a line it would reach to the moon and back 8,000 times" was one of the fascinating facts with which Dr Alastair Noble peppered his lecture in the Moor Close Chapel of Newbold College on 17 September 2011.
Dr Noble, a former research chemist who is also a lay preacher and church elder in the Evangelical Brethren Church, is the Director of the recently formed Centre for Intelligent Design based in Glasgow. He conveyed how the complexity of DNA with its 'information rich system' thrills and excites him and gives him an insight into the mind of God. He contends that living systems look designed – because they are designed.
His conclusions backed up the contentions of Professor John Walton that DNA sequencing has uprooted Darwin's 'Tree of Life' and proved that homology is not evidence of common descent. "Life" he said, "could not have originated by random chemical combinations." Professor Walton conceded that there have been  mutations in animal life, but that in 150 years one species has not changed into another.
Professor Walton (a former Newbold College Board member), is Research Professor of Chemistry at Andrews University and has published over 270 research articles in learned journals as well as writing three books. Both men were invited by Adventist-laymen's Services and Industries (ASI-UK) to conduct this Creation Seminar and those who filled Moor Close Chapel at Newbold College to overflowing were informed by the cogent facts presented that we are indeed 'fearfully and wonderfully made.' Both men testified to their faith in the great Creator God and both have demonstrated that they are not afraid to challenge widely held views on 'natural selection.'
In thanking Professor Walton and Dr Noble for their excellent presentations ASI-UK President, Jim Cunningham, said that all had been informed and inspired and the knowledge gained should challenge us to renew our efforts to 'Share Christ in the Market Place.' [tedNEWS]
---
tedNEWS Staff: Miroslav Pujic, director; Deana Stojkovic, editor
119 St Peter's Street, St Albans, Herts, AL1 3EY, England
E-mail: This email address is being protected from spambots. You need JavaScript enabled to view it.
Website: www.ted-adventist.org
tedNEWS is an information bulletin issued by the communication department of the Seventh-day Adventist Church in the Trans-European Division. 
You are free to re-print any portion of the bulletin without need for special permission. However, we kindly request that you identify tedNEWS whenever you publish these materials.