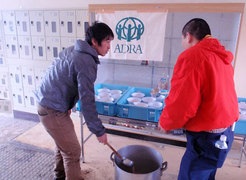 24 Mar 2011, Silver Spring, Maryland, United States [ANN]
The Seventh-day Adventist Church continues to rally support in the wake of the 9.0-magnitude earthquake that stuck northeastern Japan March 11, spawning a tsunami and widespread devastation.
An Adventist Development and Relief Agency volunteer fills bowls with traditional Japanese miso soup for displaced persons at an area evacuation center. The church's humanitarian arm is among organizations aiding those most affected by country's March 11 earthquake. [photo courtesy ADRA International]
The Adventist Church's Northern Asia-Pacific Division (NSD) voted last week to send $50,000 to the church in Japan for emergency relief, and the Adventist Development and Relief Agency is expanding its response by supporting an evacuation center in Miyagi Prefecture, one of the hardest-hit regions.
The pledge is part of what church leaders in NSD called their "long-term support" as Japan recovers from its worst natural disaster in recorded history.
"When we think of the suffering and damage Japan is going through ... [all] we can do is to humbly ask God to stretch out his healing hands," said Jairyong Lee, Adventist Church president for NSD. "There is an urgent need for the prayers of the world church for our members in Japan."
Lee visited the country yesterday to better assess damage to Adventist-owned churches and institutions. Early reports indicated that 13 churches, 10 schools and five other church institutions were located in earthquake-affected areas.
Meanwhile, the Adventist Development and Relief Agency sent a two-ton truck loaded with food and emergency supplies to assist the approximately 1,300 displaced persons currently housed in an area evacuation center.
ADRA has previously provided hot meals for those staying at evacuation centers.
"I was so happy to have [traditional Japanese] miso soup today because it was the first hot meal we had since the earthquake," one young girl at a center told ADRA last week.
Cold weather, snow, empty grocery stores and the fear of nuclear radiation are complicating many survivors' efforts to return to their homes and begin cleanup, an ADRA press release said.
Last week, Adventist world church President Ted N.C. Wilson issued a statement in response to the earthquake, noting the church's initial relief efforts in the region and urging Adventist worldwide to pray for Japan "during this time of intense need."
 
---
tedNEWS Staff: Miroslav Pujic, director; Deana Stojkovic, editor
119 St Peter's Street, St Albans, Herts, AL1 3EY, England
E-mail: This email address is being protected from spambots. You need JavaScript enabled to view it.
Website: www.ted-adventist.org
tedNEWS is an information bulletin issued by the communication department of the Seventh-day Adventist Church in the Trans-European Division. 
You are free to re-print any portion of the bulletin without need for special permission. However, we kindly request that you identify tedNEWS whenever you publish these materials.