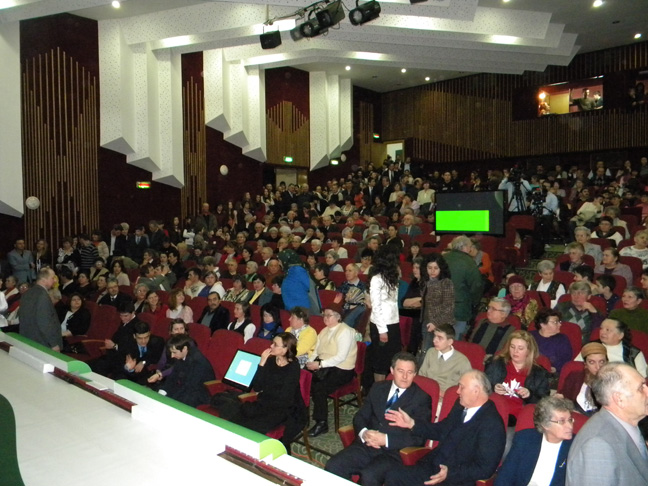 11 March 2011 Targu Mures, Transylvania [Pastor Erno Szasz, tedNEWS] "The Secrets of Life with Confidence" series of lectures were organised between 18 February and 14 March 2011, in Targu Mures, Transylvania in the Hall of Maros Artistic Ensemble. The evangelistic series was followed on screen in most of the local churches and was broadcasted by Speranta TV (Hope Channel Romania) and Voice of Hope Radio. Other local cable TV companies agreed to include Speranta TV within their programme selection of channels. Interested listeners were also able to access the information and broadcast on the Internet at: www.bizakodoelet.ro, www.sperantatv.ro, and www.remenytv.hu.
The evangelistic series consisted of four parts to explore important issues in the church: youth oriented talks, a health message, Biblical presentations, and concluded with round table discussions on relevant doctrines. In order to run all these programmes, there was also a need for joining different forces of people together. Many pastors, theology teachers, doctors and medical professionals from Romania, Hungary, and Serbia participated and served as presenters in the various areas of the series.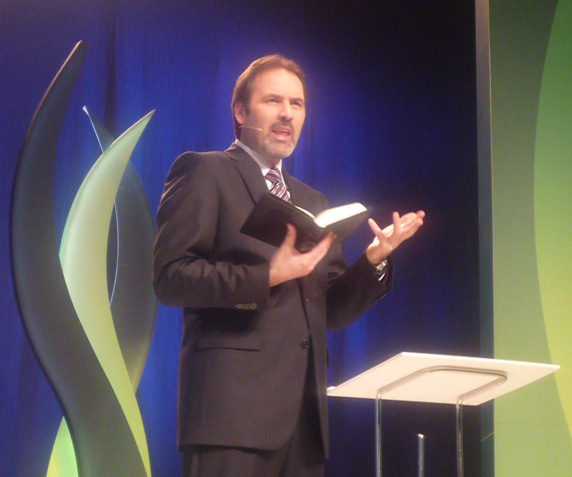 The main speaker of the "Secrets of Life with Confidence" series was Janos Kovacs-Biro, Evangelism Director at the Trans-European Division (TED). The ten evangelistic presentations took place in an overcrowded meeting hall, where a delightful 150-200 attendants were non-Adventists. According to the statistics, the series was followed on the Internet from 77 countries all over the world. Outside of Romanian borders, in Europe there were countless viewers in the countries of Hungary, Serbia, Germany, Italy, Spain, England, Holland, Sweden, Switzerland and Greece, as well as some from the USA, Australia, India and Indonesia. The viewers of the Speranta TV channel were estimated to be around 1 million in Romania and its neighbouring countries. Also, because Romanian subtitles for the series were available on the Speranta TV channel, many Romanian-speaking people were able to understand and view the evangelistic program that was delivered in Hungarian.
The reaction from viewers, whether from TV, in person, radio or the Internet, was so encouraging and deemed the series as being very effective and successful. A text message was received from a 16-year-old girl from Transylvania shortly after the series finished. She says, "I am happy that I followed and viewed such an amazing series. I feel that there are changes in my spiritual life. I am reading much more and spend much more time for my relationship with God. I am sixteen, and I just now realised during this series what an amazing God we have. May God bless those who participated in organising and running this series."
The series was viewed by many in local churches and homes, in territories with and without an Adventist presence. Pastor Erno Osz-Farkas, President of the Seventh-day Adventist Church in Duna Conference Region Hungary, described the results and his deduction on the effectiveness of this Hungarian NET2011 series: "The reception of the series is very positive. The selection of topics is very good and the style of presenting them was also. We could say only good things about the technical production and quality of transmission. The Internet broadcast was perfect as well. At this time we are not able to estimate the exact number of viewers, but we are confident that this series has been another one of God's excellent tools in spreading the Gospel, and that we will hear a lot in the future about its blessings."
For all the results we praise God! Soli Deo Gloria! [tedNEWS]
 
---
tedNEWS Staff: Miroslav Pujic, director; Deana Stojkovic, editor
119 St Peter's Street, St Albans, Herts, AL1 3EY, England
E-mail: This email address is being protected from spambots. You need JavaScript enabled to view it.
Website: www.ted-adventist.org
tedNEWS is an information bulletin issued by the communication department of the Seventh-day Adventist Church in the Trans-European Division. 
You are free to re-print any portion of the bulletin without need for special permission. However, we kindly request that you identify tedNEWS whenever you publish these materials.