13 February 2011 Rotterdam, the Netherlands [Cherrel Francisca, tedNEWS]  "Inspirational, an eye-opener, practical, insightful, tremendous" were the words used by church members to describe the special programme organised for the Antillean Community in the Netherlands.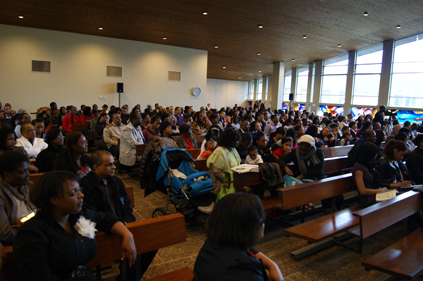 On the 12th February 2011, the Rotterdam International church of Seventh-day Adventists was the host church for a compelling meeting on how to understand the postmodern people of this age, minister to their needs and make worship service relevant in our age. More than 400 people from different parts of the Netherlands attended the meeting and afterwards were inspired and motivated to go and connect with people outside the church in order to help them see the relevancy of Jesus Christ. 
The main speaker was Dr. Miroslav Pujic, Director of Ministry to Postmoderns at the Trans-European Division, who presented a variety of insightful teachings and recommendations regarding the evangelism to postmoderns in a very inspirational way. This was greatly accepted by the immigrants living in the Netherlands who had been in great need to understand the postmodern society that surrounds them in order to be able to minister to their needs. 
 
Church members were completely open and receptive to new ideas and expressed the need for more meetings of this kind. Some were so excited that they requested for Dr. Pujic to make an appointment that same day for the next meeting. Both young and old could see ways to approach postmoderns, how to be spiritually fit, and new ideas to consider in worshiping today in our churches.
The music was very inspirational, with adults and young people joining together to form a praise team that encouraged the whole congregation to participate in a very appealing mixture of yesterday hymns and today's praise songs. Young people were particularly impressed, motivated and enthusiastic; they were the first to approach Dr. Miroslav personally to ask him whether he would be able to come again.
We praise God for the enthusiasm that we saw among the participants and for a very blessed day. We hope the Lord will continue to bless both the leaders and members that were present, and that new horizons could be reached as the church in Holland moves forward as a united front by facing the challenges together and seeing wonders happening in the church. [tedNEWS]
---
tedNEWS Staff: Miroslav Pujic, director; Deana Stojkovic, editor
119 St Peter's Street, St Albans, Herts, AL1 3EY, England
E-mail: This email address is being protected from spambots. You need JavaScript enabled to view it.
Website: www.ted-adventist.org
tedNEWS is an information bulletin issued by the communication department of the Seventh-day Adventist Church in the Trans-European Division. 
You are free to re-print any portion of the bulletin without need for special permission. However, we kindly request that you identify tedNEWS whenever you publish these materials.