11 October 2018 | Binfield, UK [Helen Pearson] Never, in twenty-one years of its existence, has the annual Beach Lecture at Newbold College begun with music. The 2018 lecture on Tuesday, 9 October was the exception.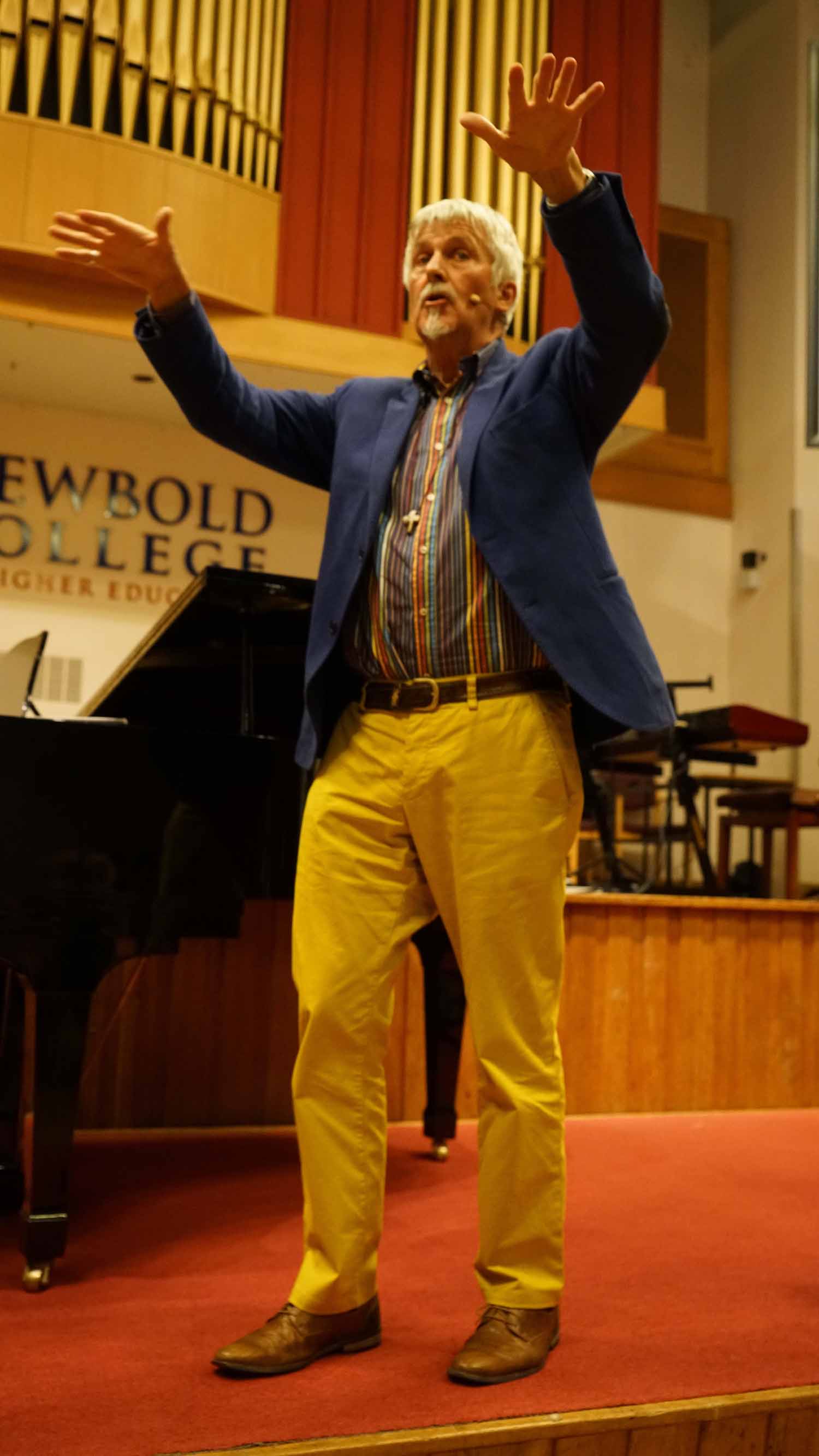 John Bell leading the audience in 3 part harmony [All photos: VIctor Hulbert]Preacher, broadcaster and hymn writer, John Bell, spontaneously burst into song. He shared and taught two short melodies, sung in parts, to transform the ninety people gathered in Newbold's Salisbury Hall from an audience into a choir. With this choral introduction, he showed how music can unite. His lecture then went on to show how it can also divide - both inside and outside the church.
It was a narrative recognised by the churchgoers including Adventists from the Newbold community and beyond, and active Christians from churches in the surrounding area.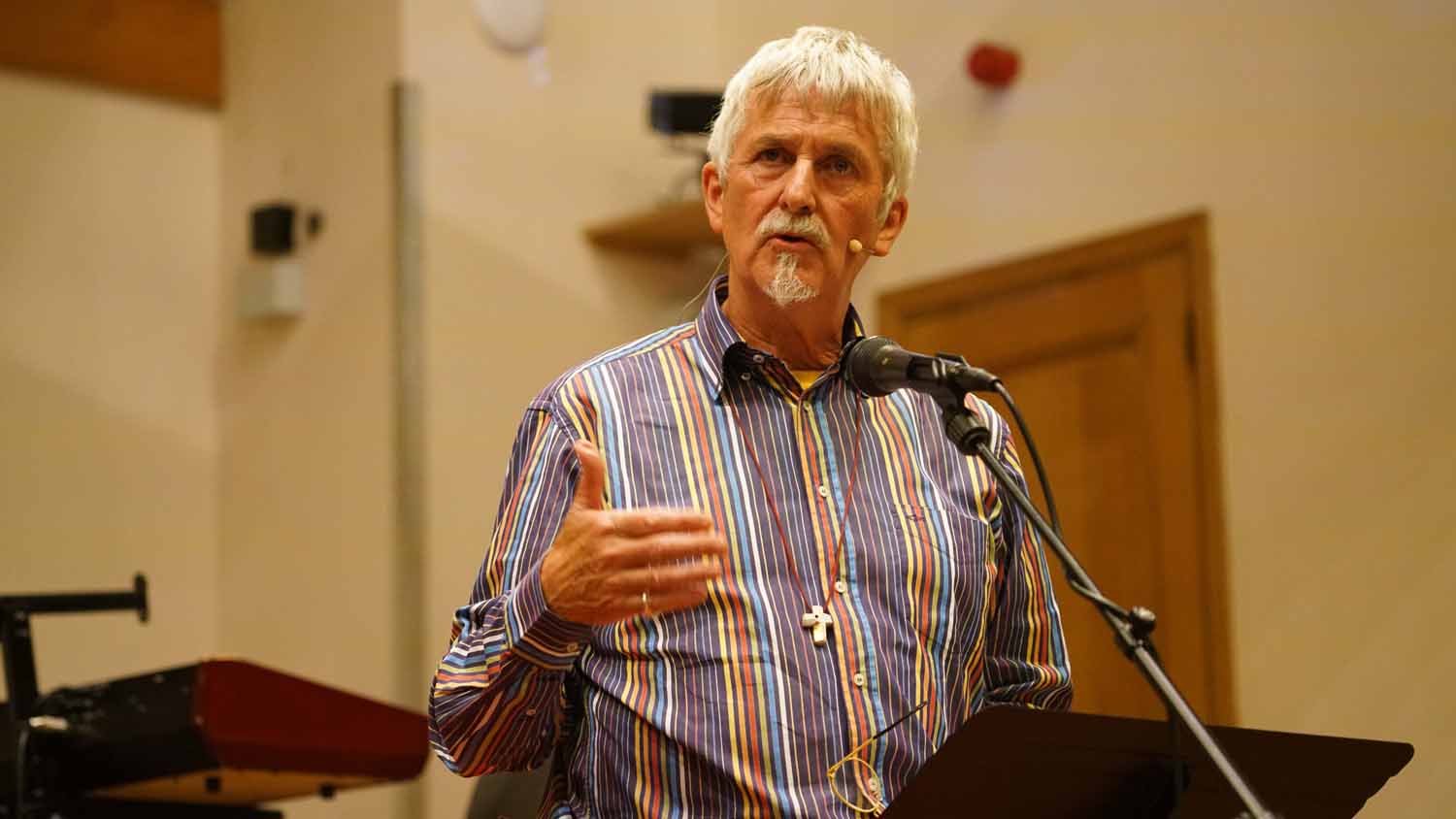 Some people think the organ is a 'God-ordained instrument', others that guitars are somehow spoken against in the Bible or that as the missionaries taught in Africa, drums are 'an instrument of the devil'. Bell argued that divisions over music have always existed. Post Reformation protestants would sing nothing but the psalms which they believed had been endorsed by Jesus. Later congregations wanted to sing hymns by Isaac Watts and Charles Wesley. Moody and Sankey's use of a piano accordion in evangelism was controversial. In Bell's native Scotland people questioned the Presbyterians' use of folk tunes in worship.
T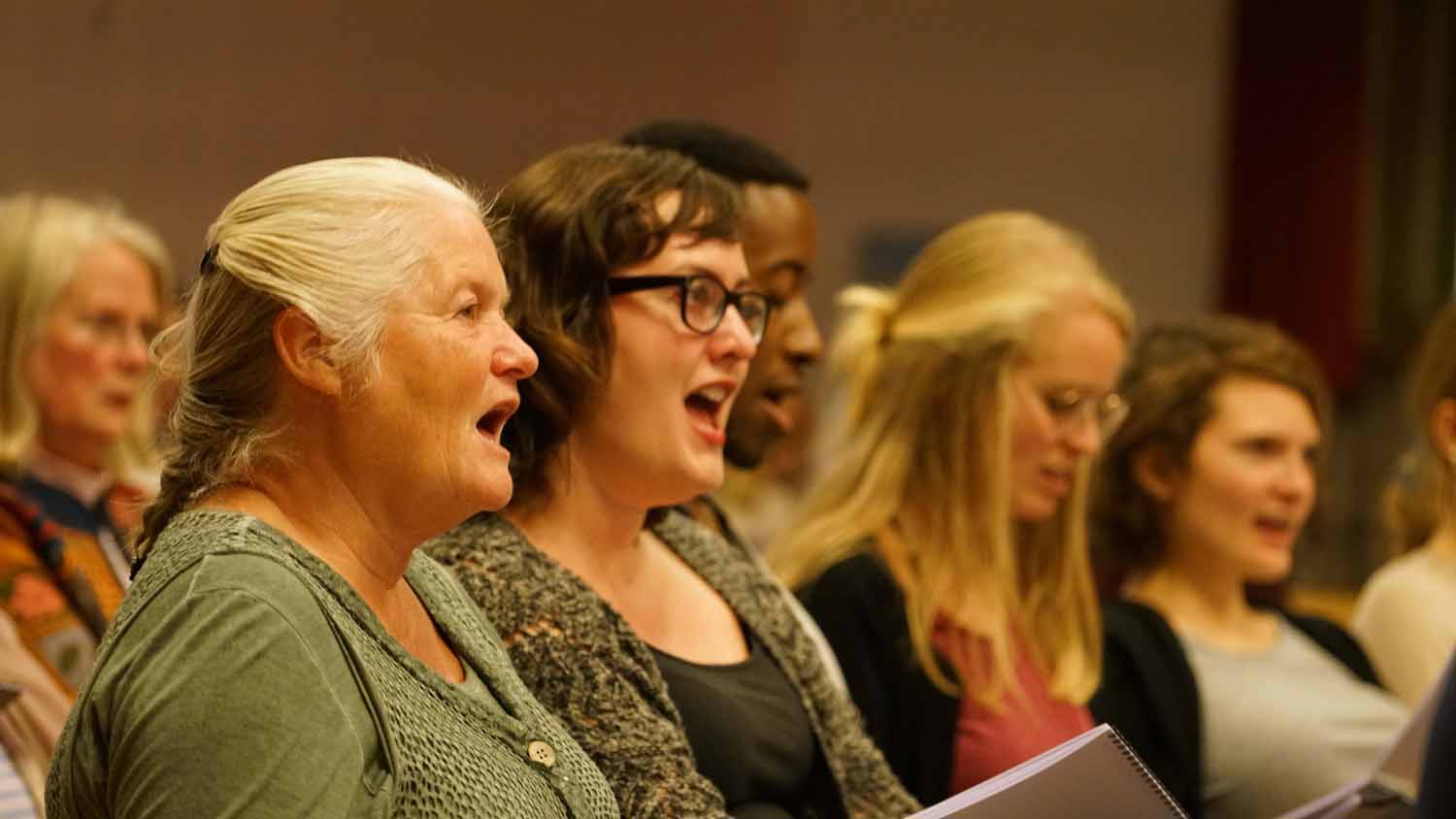 hese days, Bell suggested, church music has become 'more sectarian than ever before'. This has happened not only in terms of musical style but in the words. "I am amazed at how restricted the vocabulary of songs has become," he said. The variety of Biblical expression, as in the psalms, is forgotten. Not only praise but lament, intercession, repentance and fresh expressions of the variety of human experience, 'the singing of a new song', are all neglected. "God's command, 'sing me a new song' is not a command just for the choir or soloists," Bell said.
He encouraged worship leaders to recognise the diversity of music available for worship. No single hymn book is sufficient on its own for people who come from different backgrounds. Various kinds of music should be employed in worship from Lutheran chorales to Victorian hymns, from Taize to Bach. They are all different and they should sound different. Context is crucial. Our context should enable us to determine what is appropriate and what is not!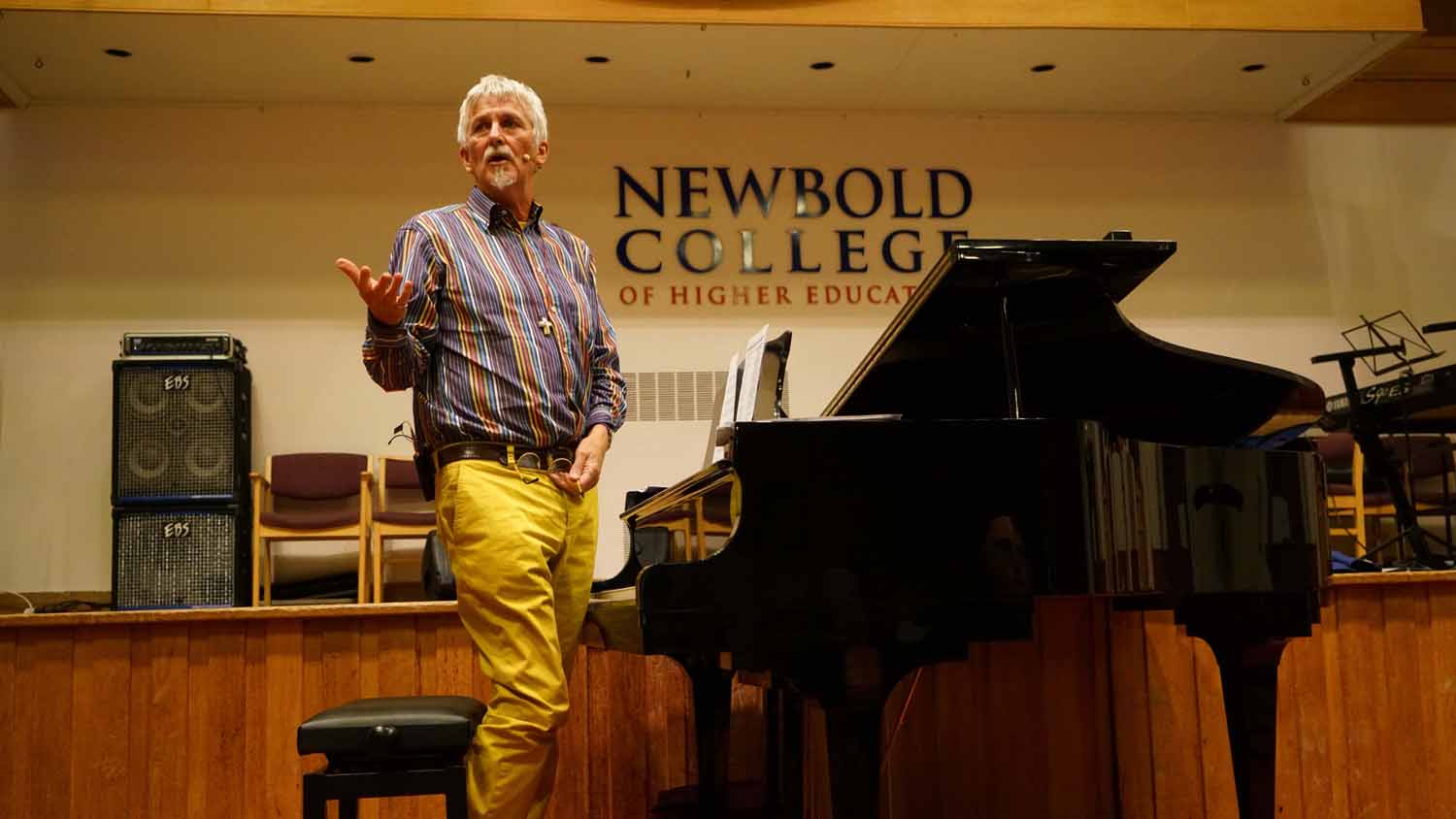 At this point in the lecture, John Bell moved to the piano, demonstrating what he was talking about by leading the audience in singing from a handout he had prepared for them entitled, Deep Praise with Diversity. They sang songs to honour the variety of experiences familiar to people in any worshiping community: songs of praise and songs of lament, songs for those who are sick, prophetic songs reminding us of the injustice in the world and songs for Pentecost about the gift of the Spirit.
Finally, Bell moved to remind British Christians about a vital use of music to create bridge-building worship. He demonstrated the use of hymns and songs from Christian worship in groups where English is not the mother-tongue of the worshipers. "If in Britain we do not sing songs from other parts of the world our children and grandchildren will ask us why we practised musical apartheid," he said. 'Mungu Ni Mwema' is a song based on Psalm 103 about the goodness of God from the Democratic Republic of Congo. Singing that together (with translation provided) was the last song from the 2018 Beach Lecture Scratch Choir!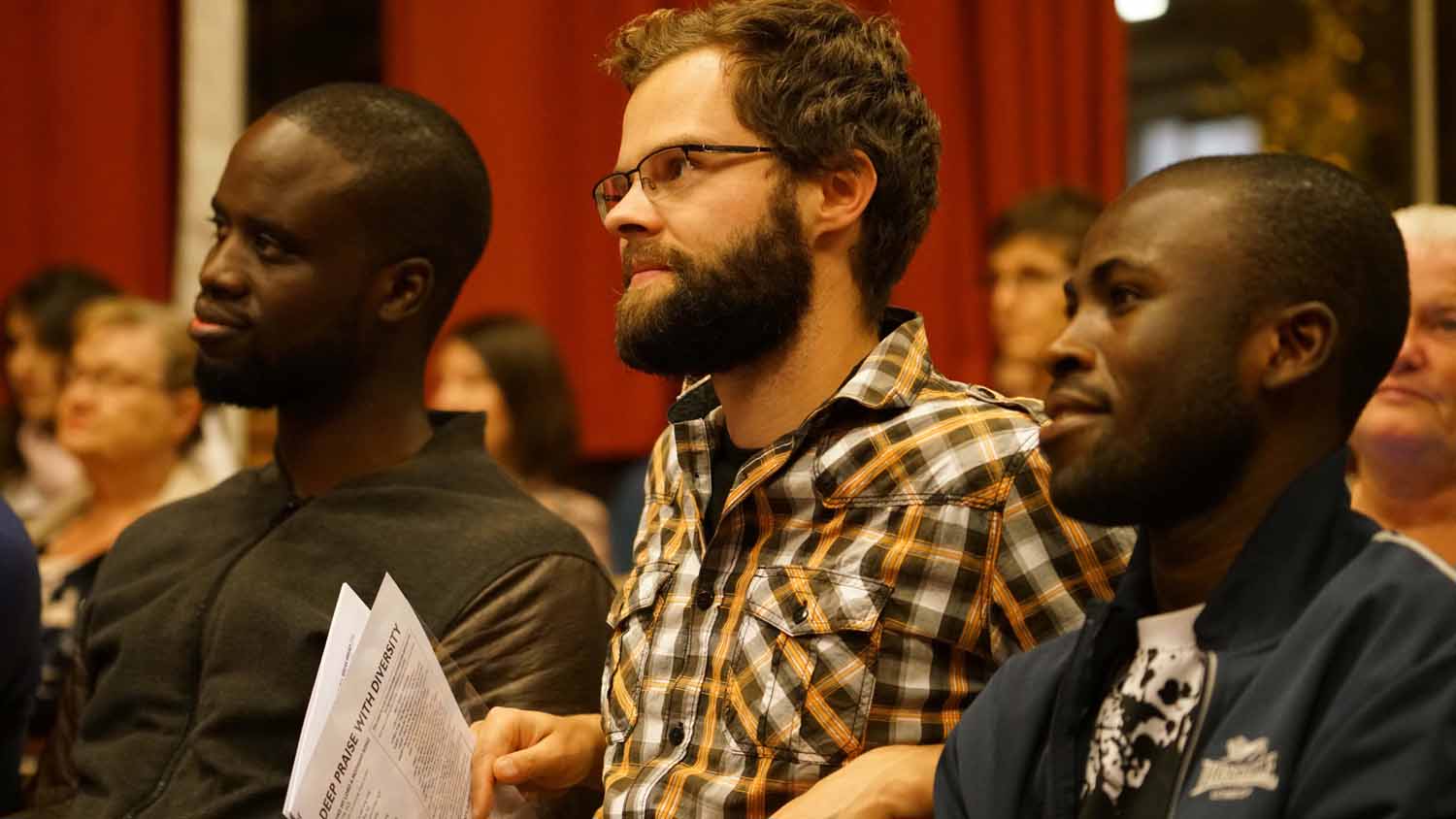 The Q&A session was lengthy. When asked about his own favourite music, Bell talked about the three most formative hymns on his Christian faith - all of them learned when he was a small boy: 'Oh, what can little hands do to help the king of heaven?, Jesus loves me, and Praise him, praise him all you little children'. There were many practical questions about providing a balanced diet of music for diverse contemporary churches. For those who are interested, some of Bell's advice on music in worship in the Q&A session appears below.
This is the first time John Bell has spoken at an Adventist event. After participating in what one person described as 'a rich musical feast', and others as 'fantastic' and 'provoking', some people are planning that it should not be the last!
The full lecture can be heard online until Tuesday October 16th on the Newbold College of Higher Education Facebook page.
Advice on music and worship:

1.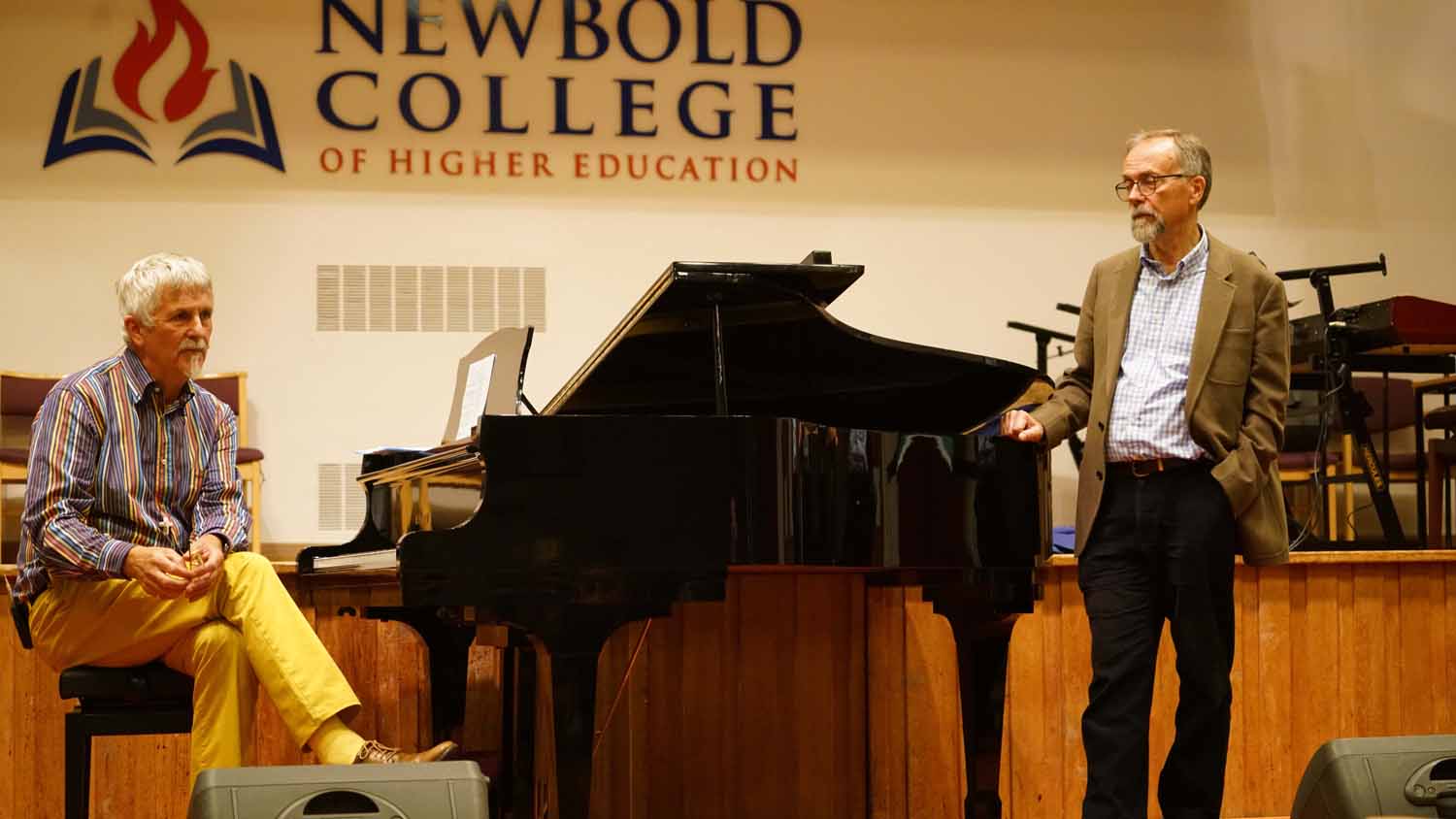 Church music is more than what makes people feel happy.
2. It should be a balanced diet, not always in the same room by the same person
3. Silence is important but people need to know whether it is a moment or 10 minutes and what they might like to reflect on.
4. We need always to let people know what is going to happen in worship.
5. Practice is vital.
6. Jazz in church can be an expression of community if there is a 'feel for each other', a 'rhythm' and a 'readiness to improvise'
7. Be in conversation with the people of God. Ask them what is helpful and what is harmful, what is too much and what is too little.
8. Get people with different preferences together to talk to each other about why we have music in church
9. God is no more present in classical music than in jazz but the gravity of music helps people to feel a depth of seriousness. It is just a matter of experimentation.
10. The preacher and worship leaders need to work together. They should not be in different silos.
About John Bell.
John Bell is a member of the Iona Community, a broadcaster and a minister of the Church of Scotland. He was recently awarded the 2018 Thomas Cranmer Award – one of the annual Lambeth Awards presented by the Archbishop of Canterbury. These awards recognise outstanding service in different fields, including those of the Archbishop's ministry priorities of prayer and the Religious life; reconciliation and peacebuilding; and evangelism and witness.
The award recognises his outstanding contribution in terms of Christian worship, witness and social action.
The Beach lecture
The Beach lecture is presented annually at Newbold College of Education's Diversity Centre, helping to promote breath of thinking across a wide range of issues. It was endowed by Dr & Mrs Bertie and Elaine Beach to commemorate Bert's father, Walter R. Beach (1902-93) and the work of both Walter R. and Bert B. Beach in education, church leadership and inter-church relations. Find out more from the Newbold College of Higher Education website.