11 September 2018 | Mysen, Norway [Andrew McChesney, Adventist Mission]
Ted N.C. Wilson, president of the worldwide Seventh-day Adventist Church, praised Norway's Matteson Mission School as a "bright spot" in highly secular Europe and encouraged its students and other young people to press forward with their missionary work.
Matteson students, singing enthusiastically and waving national flags, greeted Wilson as he arrived with his wife, Nancy, and Trans-European Division president Raafat Kamal and his wife, Heidi, at their school in Mysen, a town located about an hour's drive southeast of Norway's capital, Oslo.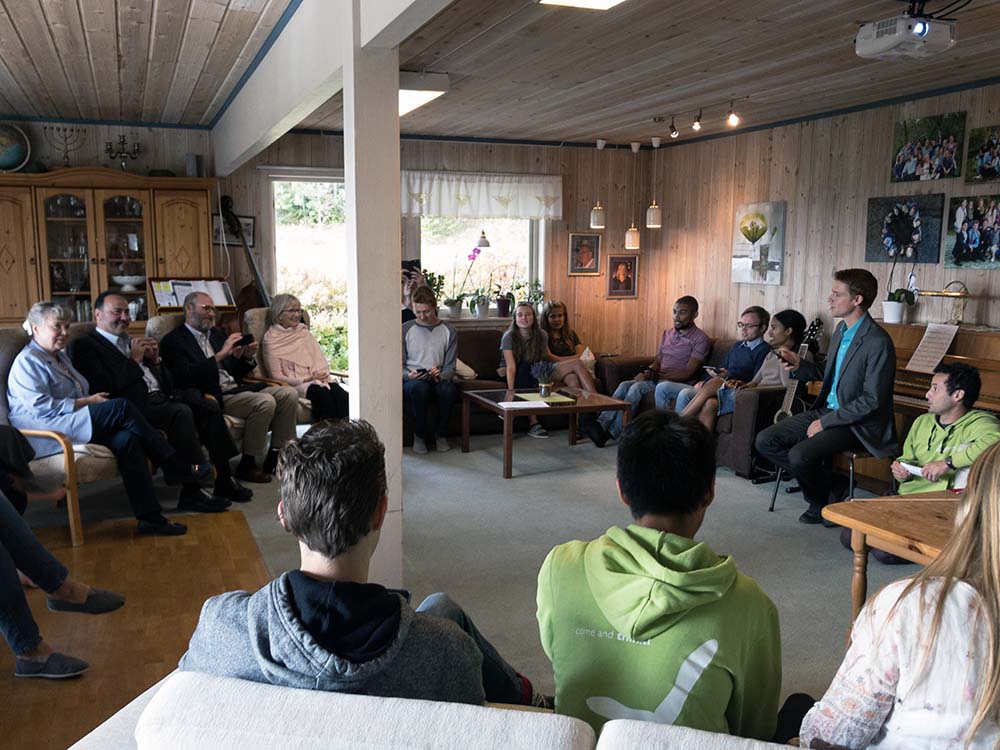 Students singing for the guests in the living room [Photo credit: Andrew McChesney/Adventist Mission]Inside a cosy living room, the students sang two more songs about Jesus and their mission work and presented the guests with glasses of freshly pressed apple juice.
Wilson was clearly touched by the warm welcome at the family-style school, a supporting church ministry that trains young people to become medical missionaries.
"Thank you for what you are doing here, not just following politically correct things and going with the flow," Wilson said. "You are one of the bright spots in the very sophisticated territory of the Trans-European Division."
Kamal, who like Wilson was visiting the school for the first time, struggled for words after the students concluded their singing.
"I'm speechless and just trying to catch the moment," he said. "Thank you for being true to our ethos."
Matteson, which was founded in 1986 and is affiliated with ASI, aims "to spread the gospel to the world in this generation" by training medical missionaries "for a life of wholehearted service to God," according to its website. Students come from across Europe and elsewhere, and many of the graduates set their sights on reaching people in the Trans-European Division, whose territory includes Norway.
Appeal to Students
Wilson, speaking in an 18-minute devotional message, urged the students to do their best to proclaim the three angels' messages of Revelation 14 that Jesus is coming soon.
Turning in his Bible to John 9:4, he read Jesus' words, "I must work the works of Him who sent Me while it is day; the night is coming when no one can work" (NKJV).
"You need to work while it is still day," Wilson told the students. "The Lord is telling us, 'Do something now!'"
The students found Wilson to be personable, and his visit filled them with new energy, said Jeremy Zwiker, 30, chairman of the Granheim Foundation that runs the school.
"It motivated our students to be workers for God," he said. "He [Wilson] was scheduled for 25 minutes and he stayed 55 minutes because he took the time for it. It made an impression on the students."
Outside the Norwegian Union office [Photo credit: Tor Tjeransen/ADAMS]
Touring the Union Office
Wilson — wrapping up a two-week trip to Serbia, Russia, Norway, and Sweden — arrived at the school around noon on Sept. 7 after leading church workers in a morning worship at the headquarters of the Norwegian Union Conference, located about an hour's drive away. In welcoming Wilson to the headquarters, union president Victor Marley emphasized that Adventists in Norway were committed to making mission first.
One way that the church is fulfilling that goal is by sending up to 70 African students door to door to sell Adventist literature for three to four months every summer. The Norwegian Union Conference has a long-standing arrangement with the government for the summer programme, and the sales account for half of all books sold by the Norwegian Publishing House every year, said Tor Tjeransen, Communication director for the Norwegian Union Conference. This year, the two bestsellers are a wildlife book and a vegan cookbook.
Wilson met the students participating in the 2018 programme during a tour of the union headquarters. The students eagerly crowded around Wilson to shake his hand and to take selfies.
Wilson, speaking later in an interview, called it a privilege to meet and pray with the students.
"What a blessing it has been for the Norwegian Publishing House and their literature evangelism programme to have guest students participate in their evangelistic outreach in Norway for many years," he said. "Literature evangelism is important and helps mission work."
As a supporting ministry, Matteson Mission School is one of several Adventist educational institutions in Norway including 11 primary schools and Tyrifjord Junior College.
First published in Adventist Mission. To find out more about Matteson visit their website: https://matteson.no/
---
tedNEWS Staff: Victor Hulbert, editor; Sajitha Forde-Ralph, associate editor
119 St Peter's Street, St Albans, Herts, AL1 3EY, England
E-mail: This email address is being protected from spambots. You need JavaScript enabled to view it.
Website: www.ted.adventist.org
tedNEWS is an information bulletin issued by the communication department of the Seventh-day Adventist Church in the Trans-European Division. Readers are free to republish or share this article with appropriate credit including an active hyperlink to the original article.