12 July 2018 | Bala, Wales [tedNEWS]
Dejan Stojković loves vlogs, photography, flying drones and spending time with people, particularly youth. One thing he does not like is walking! Nevertheless, he almost forgot his aching feet and legs as he mingled with youth on a 25-mile (40km) hike that emphasised the importance of the Bible in our lives.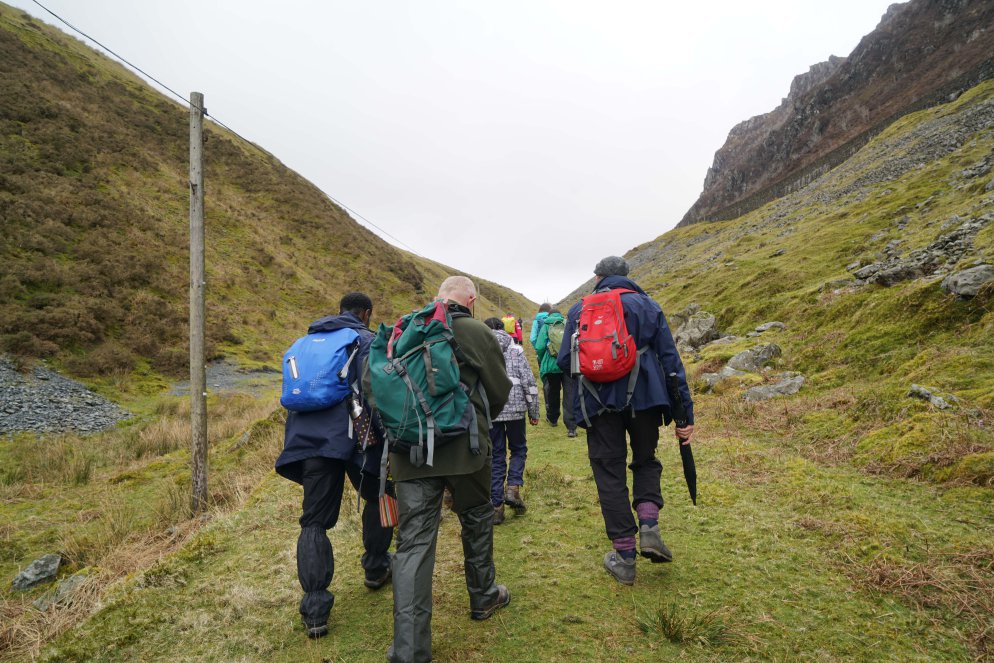 Walking 'into the future' [Photo credit: Sajitha Forde-Ralph]"I'm just astonished at how central the Bible has been to our Reformation Journey series," states Victor Hulbert, Director of the nine-part series. The ninth instalment 'Into the future', is released today. In it, Victor and co-host, Dejan, conclude a two-part journey with a group of youth from across Europe, retracing the route taken by the 15-year-old Welsh girl, Mary Jones, in her passion to save for, then take that 25-mile walk, to purchase a Bible.
Following last week's release of part 1, 'Valley and Mountain', several viewers have written to say they have shared the video with their children. Maria Lot Visbal wrote on the TED Facebook page, "What an inspirational true story. So touching... We are so greatly privileged now with the invention of the printing press which in turn enabled mass production of God's Word but we just take it for granted." Her hope is that this series will encourage a new generation "to pick up our dusty Bibles lying on the shelf and really read it."
"The whole concept of the Reformation Journey series has inspired me," states TED president, Raafat Kamal. "It takes a certain skill to share a story from hundreds of years ago and make it relevant and eye catching today. These last two programmes, mixing the actual story of Mary Jones with the views and comments of today's youth has made the story come to life, and focused me back towards my own Bible."
That skill is largely the result of the videography expertise and keen eye of Dragana Selaković. She battled rain, strong winds, and a gruelling schedule, to enliven the narrative.
"This actually is a really beautiful story!! Amazing!" reflects another viewer, Joan Mckenzie-Cook.
Now in part 2, the journey concludes with the youngest member of the group, Noah Gungadoo, considering if he would save his pocket-money for a Bible; his sister complaining about the mud; local Welshman, Timothy Mertens learning something about determination; and Dejan, while still complaining about his sore feet and too much walking, pondering how much the Bible means for him today.
After watching the two most recent episodes, Joe Sloan, Hope Channel's International Development Director wrote, "Congratulations on the production of the Reformation Journey series. They are really excellent with a great approach to conceptualizing this important historical event for our times."
Throughout the series, Victor and Dejan visited reformation venues across Europe, discovered stories of passion for truth, freedom of understanding, and an openness to question, challenge and understand.
The entire series can be seen on the Trans-European Division YouTube Channel or website.[tedNEWS]
See also: 'How far for a Bible?'
---
tedNEWS Staff: Victor Hulbert, editor; Sajitha Forde-Ralph, associate editor
119 St Peter's Street, St Albans, Herts, AL1 3EY, England
E-mail: This email address is being protected from spambots. You need JavaScript enabled to view it.
Website: www.ted.adventist.org
tedNEWS is an information bulletin issued by the communication department of the Seventh-day Adventist Church in the Trans-European Division. Readers are free to republish or share this article with appropriate credit including an active hyperlink to the original article.