22 November 2017 | Tirana, Albania [Andi Lile] Established 25 years ago, following the fall of Communisim in Albania, Seventh-day Adventists now own their own place of worship in the capital city, Tirana. Celebrations on Sabbath, 11 November took on the atmosphere of a festival of faith as Pastor Leo N. Espana, president of the Albanian Mission and pastor of the Tirana Central church, led a special service involving guests who, over the years, have been part of this story of miracles.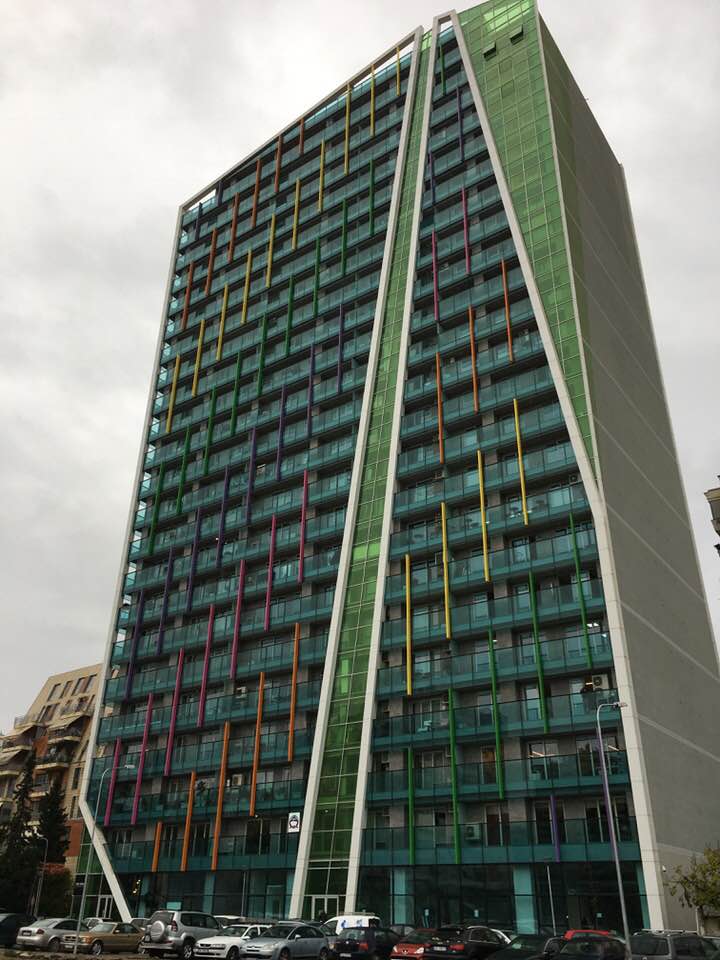 Tirana central church located on the ground floor.The new church, located in the very center of Tirana, will reach out to a city of nearly 1 million inhabitants. It is a big dream come true for local members and was made possible thanks to the generosity of fellow Adventist from across the world, as part of their 13th Sabbath Mission offering.
Special guests on this remarkable day included Pastor Julian Kastrati, Tirana Central's longest serving pastor with his wife Beatrice, and Pastor and Mrs David Currie, one of the first evengelists to arrive in Tirana after the fall of communism. Even though they are now resident in Australia, their love for Albania would not let them miss this special moment.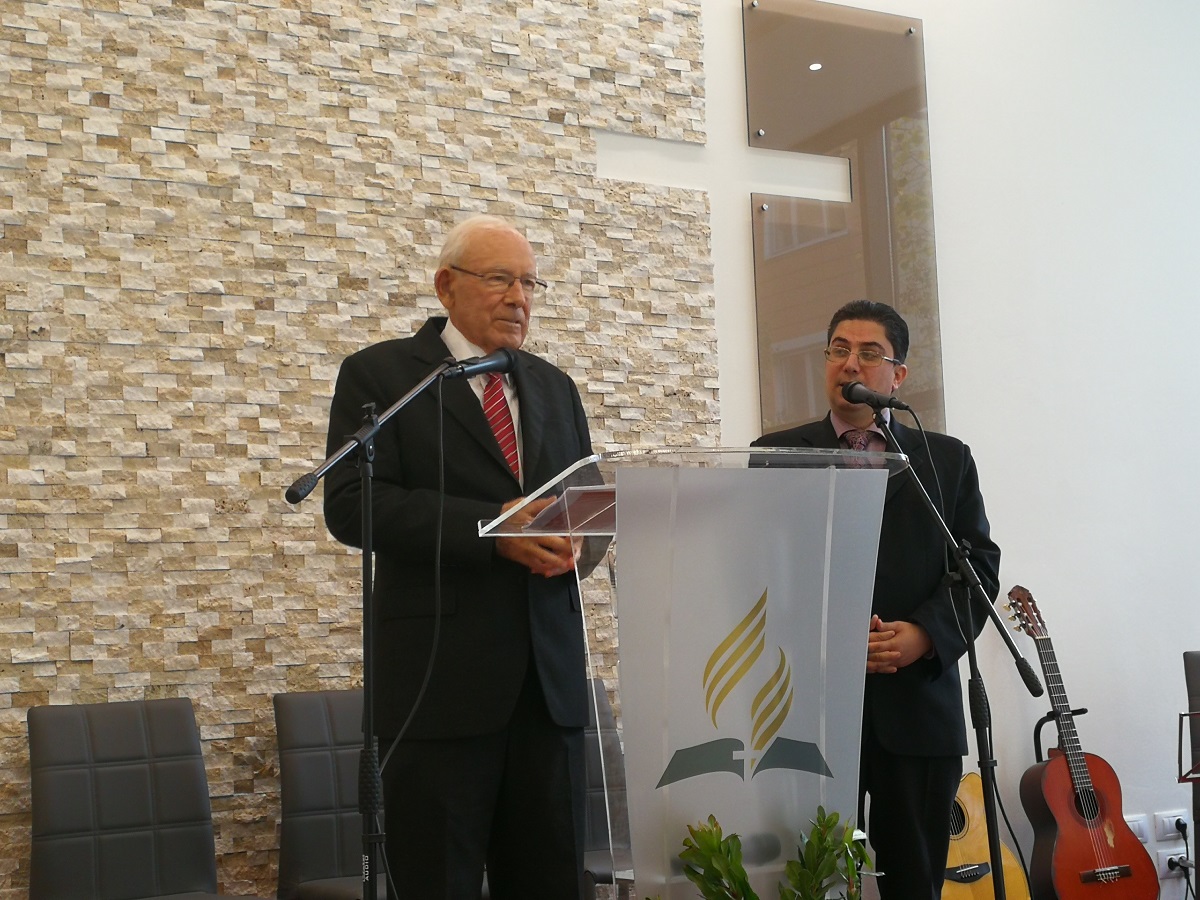 Pastor David Currie, one of the first evangelists in Tirana.Pastor David Currie nostalgically recounted his experience as an evangelist in those first liberated years. His key memory was meeting the great heroine of the Adventist faith in Albania, mother Meropi Gjika. The 25th anniversary of Adventism in Albania and Tirana would have sounded meaningless without recalling the faithfulness of this great woman who provided inspiration to the first generation of Albanian adventists. Today she stands as as an inspirational symbol of this new beginning, that the Tirana Central Church is hoping to experience with its new home building.
Pastor Julian KastratiPastor Kastrati expressed his excitment at being in the new church, reunited with his dear brothers and sisters, "this time in our new home, in this peak moment of our history of our journey with the Lord." He noted that "it hasn't been an easy road to come to this moment, we are all witness of the challenges and trials. It has been a journey of ups and downs, of moments when we have felt alone, or abandoned, perhaps have felt like the Lord was not with us, but I wanted to encourage you today and with full confidence, I'm telling you, that God is always there with us listening and watching us, even though we may not feel his presence sometimes. But today, here we are, in the mountain top of our journey; but the journey will still continue with ups and downs and what is the most important thing in this history is that we stay strong in the faith and have confidence in Him that promised to never leave or forsake us."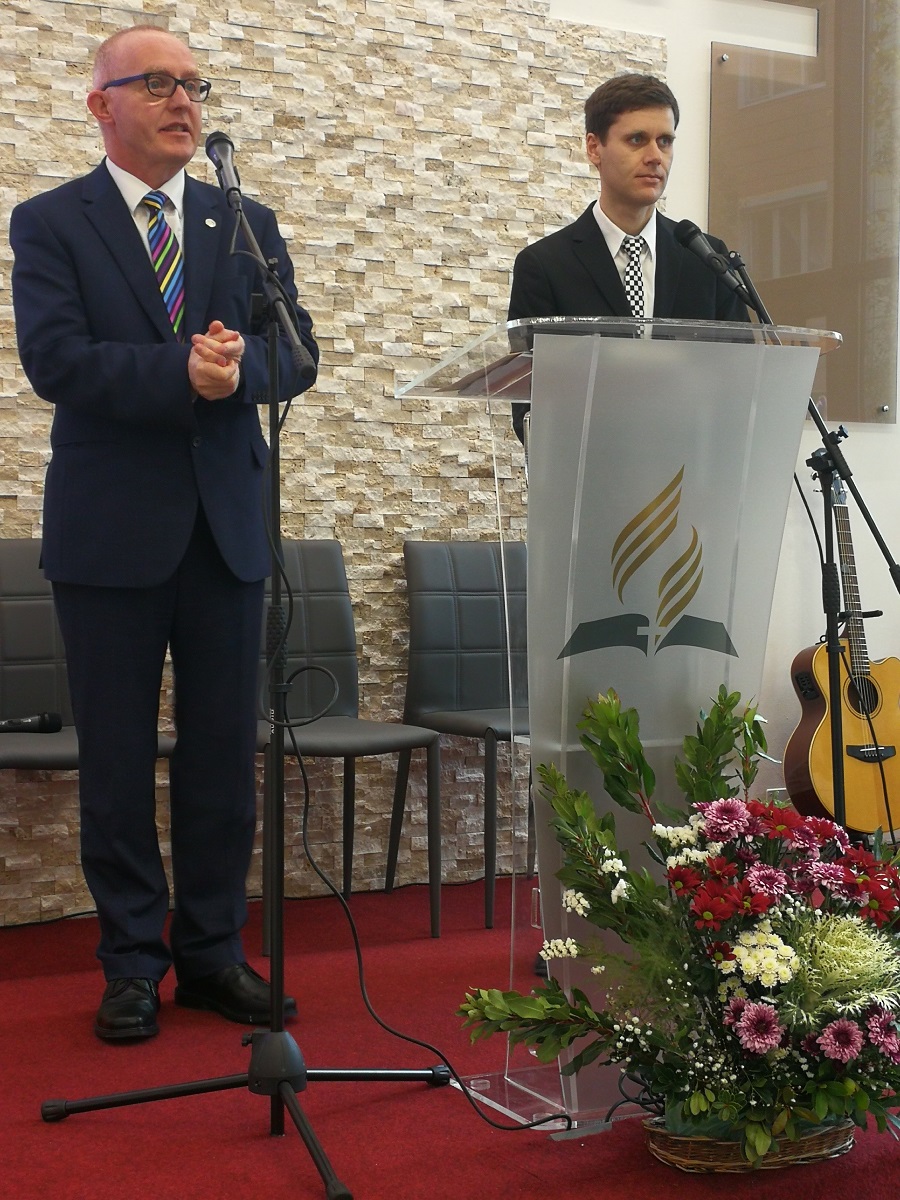 Pastor David Neal, TED Stewardship director. Representing the Trans-European Division, Stewardship director, Pastor David Neal still found himself impressed by the story of Meropi Gjika, faithfully keeping her tithe in biscuit tins under her bed, throughout all the dangerous days of communist rule. "I'm really thrilled to be present with you today, to remember the past, and look ahead to the future, on the opening of your new church," he said. "Located adjacent to the new national sports stadium, and the university district, I pray that this church will be a strong shining light for the people of secular Tirana." Noting the floor to ceiling windows fronting the street, Pastor Neal hoped "they would always be free of blinds, or curtains, so passers-by would see a worshipping community."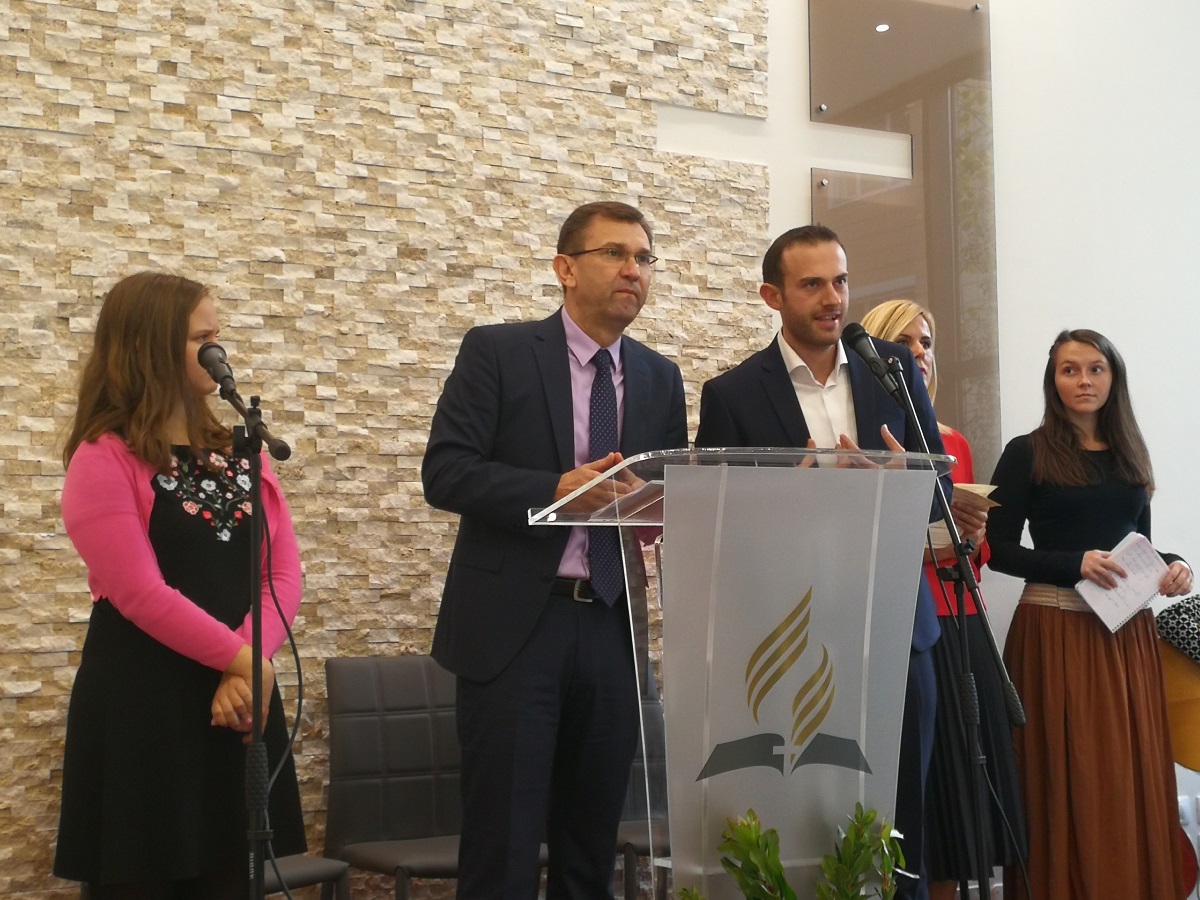 Nebojša Milovanović, Treasurer at AUC.The Adriatic Union Conference was represented by Pastor Neven Klačmer, Executive Secretary, and Nebojša Milovanović, Treasurer. Another guest from Australia was Pastor Alban Matohiti, returning to his home country, where he served as a pastor for many years.
Greetings came from afar through written messages from Pastors Raafat Kamal, Trans-European Division president; Zlatko Musija, TED youth director and Rajmund Dabrowski, who was TED Communication director at the time of the Church being established in Albania.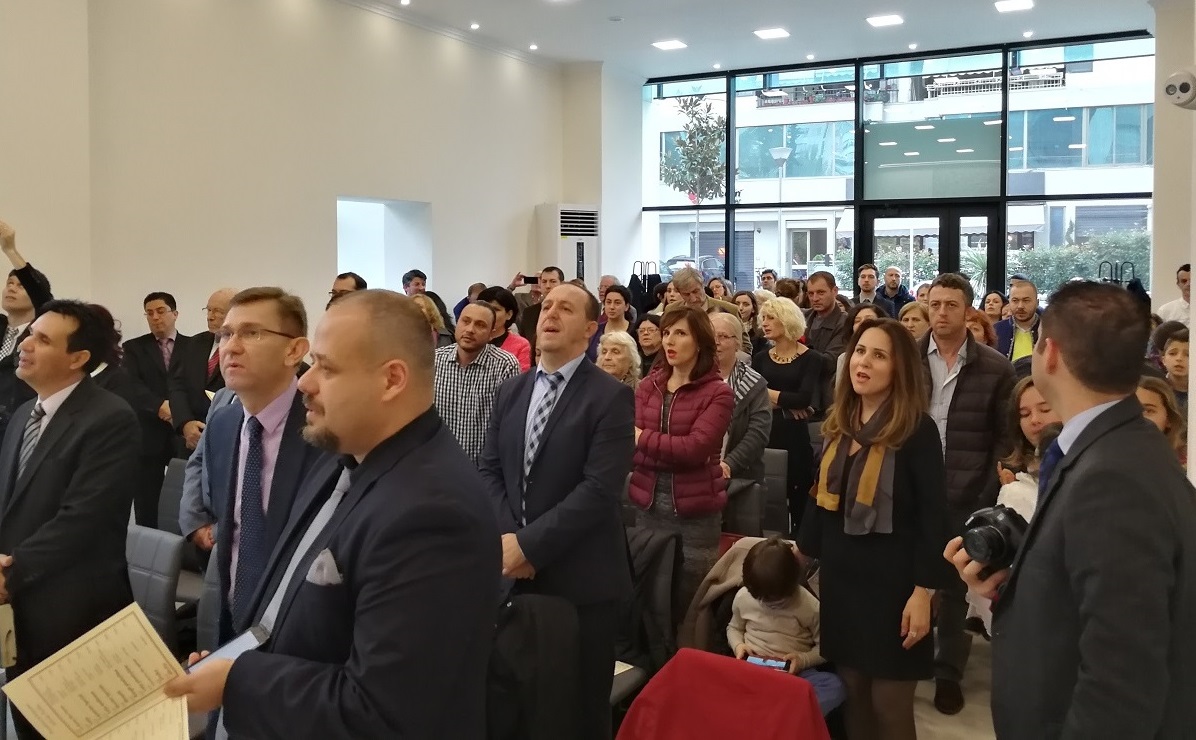 Tirana Central church is praying that this new building will bring a new beginning, a spiritual revival of the church itself, fulfilling the great commission of our Lord and Saviour Jesus Christ, to spread the gospel, baptise and make disciples in the city of Tirana. This they see as a priority in a city that faces increasing secularism, but where members know that, with God, nothing is impossible. [tedNEWS]
---
tedNEWS Staff: Victor Hulbert, editor; Deana Stojkovic, associate editor
119 St Peter's Street, St Albans, Herts, AL1 3EY, England
E-mail: This email address is being protected from spambots. You need JavaScript enabled to view it.
Website: www.ted.adventist.org
tedNEWS is an information bulletin issued by the communication department of the Seventh-day Adventist Church in the Trans-European Division.