7 November 2017 | Mjøndalen, Norway [Linn Helene Stølen] A strong health emphasis is one of the identifying marks of the Seventh-day Adventist Church. That is true since its earliest days. Yet emphases change with time, so recognising the need to deal with some contemporary health issues, the Norwegian Seventh-day Adventist Health Professionals' Association (SAHA) gathered for a think-tank in Mjøndalen, on 15 October 2017.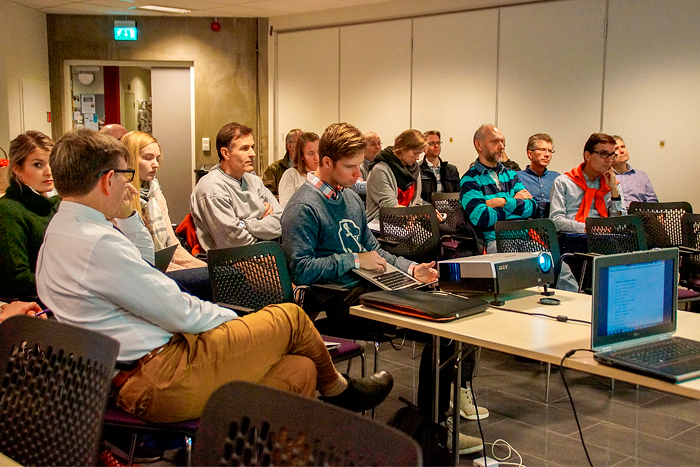 Photo: Lasse Stølen/ADAMSEthics
One of the strong messages emanating from the discussions on ethics was the need to work with absolute transparency, and with no hidden agendas. For instance, if the Church extends an invitation to a health seminar, then that should be what is delivered. Clarity must be provided on what is being offered, to prevent attendees from feeling misled.
Equally, for health professionals, this means operating respectfully within the framework of national laws and regulations. Conversations on spiritual matters should only be initiated by patients, and should always be on the patients' terms and in their interest. It was considered equally important to maintain professional standards and not misuse the position of power that the role of a health provider may afford. It was suggested that health professionals could work more closely with Adventist pastors; at the patients request, referring them to pastors for deeper talks on spirituality. This resulted in a question about the need for further pastoral training in the area.
Health Debates in the Society
What about the Church's voice on public health issues? Attendees felt that the church should be more visible and involved when matters of significance are being discussed. They suggested that Adventist Health Professionals need to facilitate partnerships with like-minded individuals and organisations in society, such as public health and temperance organisations.
The Church as a Health Centre
It was recognised that one of the greatest challenges for our Church is the understanding of emotional and relational health. There is a need to mobilise care and counselling services, as well as conflict management.
The question of how the Church might join forces with others in our local communities was addressed by examining a successful project in Mandal, where the local Adventist Church, in co-operation with the council, supports mental health initiatives. The church also runs vegetarian cooking classes and organises vegetarian banquets. Car-boot sales run regularly in co-operation with Frivillighetssentralen, a nationwide organisation that operates volunteer centres, providing local meeting places for individuals, teams, associations and the public. It aims to reach broad layers of the population.
The group agreed that altruism must be the underlying motivation for every initiative, with the desire to pass on what we have received. Then there should be an assessment of the needs of the local community, matched with the available resources in the local church. During this part of the dialogue, questions raised and discussed included: Is there anything we can do for refugees? Is it possible to co-operate with ADRA and other churches' relief organisations? Could we get more involved in low-threshold activities such as language courses, health clubs, knitting clubs, or morning cafés for the elderly?
A key Adventist health message for our time.
Recognising that mental health is an increasing problem, including for many young people, the church needs to assess what are their actual needs as well as how they can best be met. Discussion arose on whether the Church should strengthen its mental health message. How may the Church and its health professionals contribute actively to improve people's health and communicate this to the public?
Health and Salvation – Why are we into health?
God desires that we should live good, whole and healthy lives. Matthew 9:35-38 notes that Jesus was teaching, preaching and healing, and that he had tender compassion for the lost and helpless, who were like sheep without a shepherd. Jesus' life and ministry testifies to the fact that the foundation of all care, including healthcare, is tender compassion. When the Church, in co-operation with its health professionals, intentionally strives to promote comprehensive health, to enhance people's health and quality of life in all dimensions, and when the spiritual dimension is an integral part of the health message preached and lived by Seventh-day Adventists, then we have something uniquely powerful to offer the world. [tedNEWS]
---
tedNEWS Staff: Victor Hulbert, editor; Deana Stojkovic, associate editor
119 St Peter's Street, St Albans, Herts, AL1 3EY, England
E-mail: This email address is being protected from spambots. You need JavaScript enabled to view it.
Website: www.ted.adventist.org
tedNEWS is an information bulletin issued by the communication department of the Seventh-day Adventist Church in the Trans-European Division.