Intergenerational Worship
Intergenerational worship is a style of worship that aims to include people of all ages in the service, especially the children.

Every church worship service is an evangelistic opportunity for our children and young people. When they can engage in worship services that help them to understand and experience God's love, they are much more likely to want to come to church. Intergenerational services also consider the needs of young people, older adults and any people in the congregation who prefer to learn in visual and interactive/kinaesthetic ways.

At the basic level of intergenerational worship, people of all ages are included in the service. It is not hard to find simple and creative ways to involve children, young people, adults and older people in a service. Click here to download a list of sixty ways that you can include children and young people in your services right away.

Intergenerational worship services can also involve children or young people throughout the service. You can watch below an example of Karen Holford conducting an intergenerational worship service at St Albans church in England that involves children and young people in almost every aspect of the service.
We are gathering simple outlines of intergenerational services to inspire local creativity and help churches to take some of the first steps in intergenerational worship. You can download these outlines
here
. (insert links to files). If you have an outline of an intergenerational worship service that you would like to share, we would love to add it to this online collection.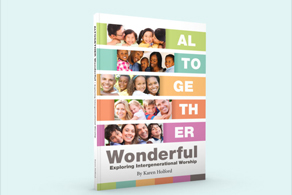 Karen Holford has written a handbook for Intergenerational worship that was sponsored by the General Conference Children's Ministry Department. To download the book,
click here
and scroll down.